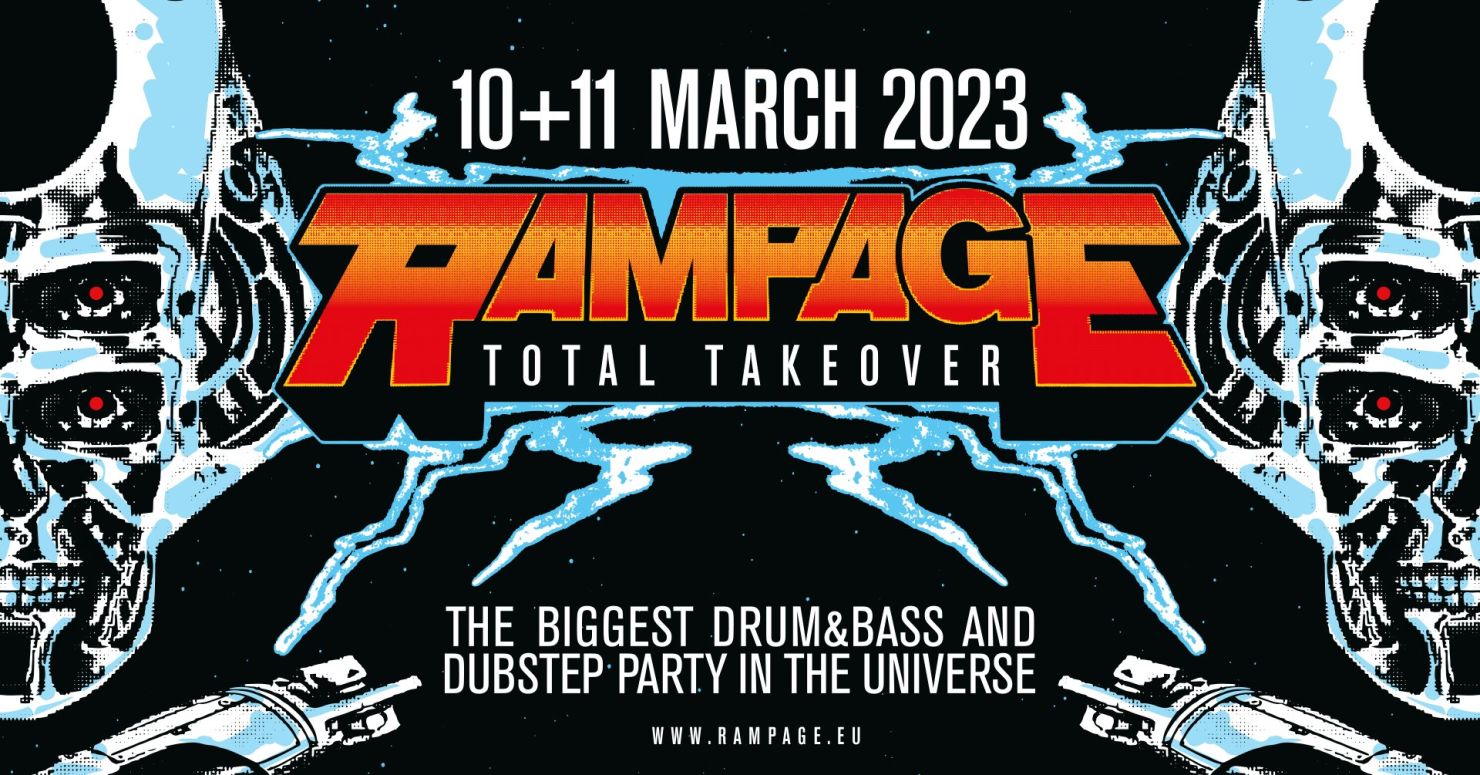 RAMPAGE WEEKEND 2023: TOTAL TAKEOVER
The Biggest Drum&Bass And Dubstep Party In The Universe is taking over Antwerp!! For the first time ever in bass music history, 10 clubs in 1 city in 1 night will be dedicated to drum&bass and dubstep; and 1 ticket allows entrance to all! 10 clubs, each with a BIG line-up, hosted by some of the biggest brands in the world.
The second night we return to Sportpaleis for our biggest show to date - a series of incredible headline acts and the most mindblowing production we've ever presented.

After three double-headers in one year, we decided to switch things up: create a new dynamic, do something that has never been done before, and bring artists that normally never play this type of venue to a small(er) club. At the same time we give you the opportunity to spend one night at your favorite music style, and the other night with both dubstep and drum&bass mixed up. On march 10th, we fill up 10 clubs in Antwerp with dubstep and drum&bass, and on march 11th, we return to Sportpaleis for the big blowout.
On march 10th, you can enter each of the 10 clubs with the same ticket. This ticket is only available to Soldiers that are also coming on Saturday, and will only be 22€ (early bird) and 24/26/28 € in later ticket waves. 1 club will be deep drum&bass, 1 club will be mixed bass music including dubstep, basshouse, future bass and more, 1 club will be strictly riddim, 1 club will be 100% drum&bass and 1 club will be mixed dubstep and drum&bass.
You can easily travel from one club to another by taxi, electric step or scootie, or bike. Each distance will take you less than 10 mins by taxi or step. If five of you share a taxi, it will cost you approx 2-4€ per person to make the trip. But chances are you will not want to move around and stick to the club you've chosen, and become drenched in the sound. We made sure the ticket price is not higher than what you would otherwise pay for a clubnight like that! On top of that, all five clubs we work with are stunning, with great production, the best sound and all the facilities to make it a night to remember.

Our app will show, in real time, which clubs are full or have a queue, to prevent you to travel to a club only to find out you can't get in. Plus, using the app, you can tell which friends are in which club. We will not sell tickets to full capacity of all the clubs so there will always be room in every club, and every club will have a big enough line-up to draw people in.
Of course this will mean you may have to choose, but that's the same at a festival with 5 stages where you will have conflicting sets. In this case though, the line-ups are different to such an extent, it will be easier to choose. And wherever you end up, it will nothing less than amazing!
Times are hard for a lot of us and with this new concept, we are able to bring the price of a ticket down a lot, allowing a lot more of a our Soldiers to come over and join the annual gathering. The event industry is suffering severely as production costs have gone up by 20 to 40%, and we want to make sure we stay providing the most mind-blowing productions in the years to come. At the same time we want to reach out to our Soldiers who are maybe a bit short on cash at the moment and provide a way for them to be a part of the big Weekend anyway.

We are super excited about the Rampage 2023 Weekend and are building the most insane line-up for the clubs and the Sportpaleis night. Some crazy artists have come on board to help build the concept, and some big brands have jumped on it to help spread the word. We'll start revealing all of it very soon. For now, we'd like to thank you for all the support so far and all the amazing vibes in the first post-covid year. We can't wait to see you again in March!!

Friday March 10th is limited capacity and access will only be available with a combi ticket, for Soldiers that visit both days.